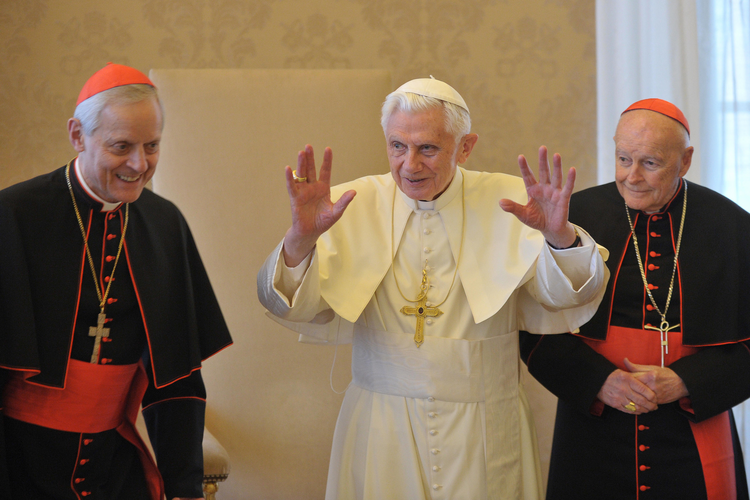 "Archbishop Viganò, the papal representative to the United States from 2011 until he was recalled to Rome by Pope Francis in 2016, did not provide documents proving that sanctions were imposed by Benedict…
During the years that then-Cardinal McCarrick was allegedly sanctioned by Rome, he kept up a public profile that included preaching at high-profile Masses, giving talks and accepting awards. He testified in front of a Senate subcommittee and appeared in the media.
The cardinal also kept up a famously robust travel schedule, in part because he served on the board of Catholic Relief Services and chaired the board of the charitable arm of the international development nonprofit.
A spokeswoman for C.R.S. told America that then-Cardinal McCarrick traveled on 'a couple of dozen trips during that time, including in Asia, Africa, the Middle East and Latin America' between 2009 and the end of Pope Benedict's papacy in 2013, adding that C.R.S. was 'unaware' of any sanctions.
Archbishop Viganò alleges that after several specific attempts to convince the Vatican that then-Cardinal McCarrick should be sanctioned because of allegations of sexual misconduct with priests and seminarians, prohibitions were handed down in 2009 or 2010. Those sanctions, he said, required the cardinal to move out of a seminary where he was living and forbade him to celebrate Mass in public, participating in public meetings, giving lectures or traveling. He was to dedicate 'himself to a life of prayer in penance.' Pope Francis removed then-Cardinal McCarrick from ministry in June following substantiated allegations that he had sexually abused a minor decades ago.
Sharon Euart, R.S.M., a canon lawyer and the executive director of the Resource Center for Religious Institutes, said that while she could not comment on the specifics regarding the onetime archbishop of Washington, D.C., a priest or bishop who is punished with sanctions removing him from ministry would be notified in writing.
Sister Euart said that whoever has jurisdiction over the offender would normally be notified of the penalty so that the offender could be monitored. In the case of then-Cardinal McCarrick, it is not clear who may have been asked to monitor him. Cardinal Donald Wuerl, who succeeded Archbishop McCarrick in Washington, has said he was not made aware of any sanctions, a statement challenged by Archbishop Viganò.
'There is certainly expectation that they would abide by the regulations of their particular situation,' Sister Euart said, adding that she would find it 'unusual' for such penalties to remain secret…
In February 2009, then-Cardinal McCarrick traveled to Bermuda and in September traveled to Zimbabwe and South Africa. He also visited Ghaha and Benin, as well as Lebanon, where he celebrated a public Mass, that year.
Then-Cardinal McCarrick was a guest at a party celebrating former Speaker of the House Newt Gingrich's being received into the Catholic Church.
McCarrick celebrated a Mass for a group of Catholic sisters in April 2009 and he was in New York, where he was the principal celebrant for a Mass celebrating the centennial of America. Then in June, he preached at a Mass in Washington marking the Year for Priests.
In August 2009, Cardinal McCarrick participated in the burial service for U.S. Senator Ted Kennedy at Arlington National Cemetery. He also concelebrated Mass at the national gathering of the Knights of Columbus in Phoenix.
In November, then-Cardinal McCarrick, along with then-Archbishop Donald Wuerl and Cardinal Sean O'Malley, concelebrated Mass at Basilica of the National Shrine of the Immaculate Conception in Washington…
2010
In January, he participated in the installation Mass for Bishop Kevin Rhoades in the Diocese of Fort Wayne-South Bend. Later that month, then-Cardinal McCarrick concelebrated the opening Mass of the National Prayer Vigil for Life at the Basilica of the National Shrine of the Immaculate Conception in Washington.
That April, he participated in an ordination Mass in Dallas for two new bishops.
The cardinal kept up his political advocacy, appearing as part of a press conference in September, during which he urged greater respect for Muslims.
In November, then-Cardinal McCarrick was in Rome, where he concelebrated a Mass with Cardinal Donald Wuerl, his successor, who had just been made a cardinal by Pope Benedict.
He celebrated Christmas Mass at a parish in Maryland.
2011
Reporting on the cardinal's public schedule picked up considerably in 2011, when Archbishop Viganò arrived at his post in Washington.
The former cardinal participated in an ordination Mass for an auxiliary bishop for the U.S. Archdiocese for the Military Services in February in Washington.
In March, he celebrated a 'family Mass' at Oratory Prep School in New Jersey, which was covered by local media. He also testified in front of the U.S. Senate Judiciary Subcommittee about civil rights for Muslims.
In May, he preached during a Mass at the cathedral in Trenton, N.J., and he ordained two friars during a Mass in New York.
The cardinal spoke at a July press conference in Washington to urge the Senate to pass an immigration bill.
In September, then-Cardinal McCarrick was in Iran, along with Washington Episcopal Bishop John Bryson Chane, for a meeting with former Iranian President Mahmoud Ahmadinejad, to discuss the release of U.S. hikers who were being held on espionage charges.
Then in October, he attended a two-day event for Catholic Charities, including an event held at the National Press Club, and he celebrated Mass at Saint Patrick's Cathedral in New York.
And in December, then-Cardinal McCarrick concelebrated a memorial Mass for a deceased bishop in New York, and he appeared on 'Meet the Press.'
2012
In January 2012, then-Cardinal McCarrick accompanied other U.S. bishops, including Cardinal Donald Wuerl, to the Vatican, during which he twice met Pope Benedict. During that trip, he concelebrated Mass with Cardinal Wuerl and the other U.S. bishops at the tomb of St. Peter.
Then-Cardinal McCarrick celebrated Mass at Saint Patrick's Cathedral in New York in February 2012. He was photographed in front of the cathedral with Cardinal Timothy Dolan.
In March, then-Cardinal McCarrick was the keynote speaker at a D.C. fundraiser for Franciscan Mission Service, and in April he received an award from Catholic Charities of Washington, D.C.—presented to him by his successor, Cardinal Donald Wuerl, at a gala fundraiser.
In April, then-Cardinal McCarrick was back in Rome, part of a delegation from The Papal Foundation to wish Pope Benedict a happy birthday.
During a May event honoring then-Cardinal McCarrick sponsored by the Pontifical Missions Society, Archbishop Viganò spoke, saying the cardinal is 'loved by us all,' and they posed with others for a group photo.
In June, the cardinal traveled to Jordan and Syria, a trip that included a conversation between then-Cardinal McCarrick and Syrian President Bashar Al-Assad.
In November, the cardinal attended an event in Dallas hosted by the Knights of Columbus, and he traveled to Iraq with a group of students from the law school at the Catholic University of America.
2013
In January 2013, then-Cardinal McCarrick celebrated Mass during a visit to the Holy Land.
Pope Benedict announced his resignation on Feb. 11. During a farewell ceremony with cardinals later that month, Benedict shook hands with then-Cardinal McCarrick."