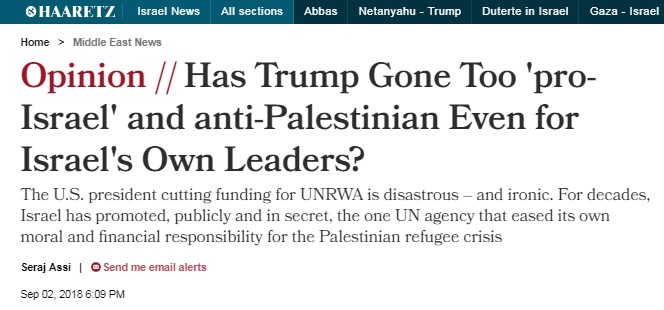 President Trump is so "pro-Israel and anti-Palestinian" it's making Israel's leaders uncomfortable, according to a column in Haaretz. 
Seraj Assi writes in Haaretz (Unwalled):
With Israel's halfhearted blessing, the Trump administration has decided this week to end funding for the United Nations Agency for Palestinian Refugees (UNRWA), a move that could prove catastrophic for millions of Palestinian refugees.
The decision, which ends a decades-long U.S. support of the agency, has been widely denounced as a joint effort by the United States and Israel to exert pressure on the Palestinian leadership to accept Trump's "deal of the century." Palestinians refer to it as a "death sentence" and downright blackmailing, "a flagrant assault" against the Palestinian people, and a collective punishment imposed on Palestinian refugees for political calculations.
By weakening UNRWA, both the Trump administration and the Israeli leadership seem to be under the perilous illusion that they could take the refugee question off the table. This is clearly a dangerous move, with far-reaching consequences for peace and stability in the region, especially in the vulnerable and poverty-stricken Gaza Strip, with its 1.3 million refugees.